Feminine hygiene products can be very wasteful for the environment with most products being disposable and containing plastic or additional harmful chemicals. Many women who want to reduce their waste have made their monthly cycle "green" by making the switch from single-use disposable options to more eco-friendly period products.
Recently, more brands are starting to develop new and creative feminine hygiene products, so there is an eco-friendly option that will comfortably fit you and your personal care needs.
So, what are some products for an eco-friendly period?
Products for an Eco-Friendly Period
Now let's take a deeper look into the best products for an eco-friendly period!
1. Reusable Menstrual Cup
Reusable menstrual cups are the best way to be more eco-friendly during your period. A great alternative to tampons or pads, they're designed to collect your menstrual flow, rather than absorb it. The cup only needs to be emptied every 12 hours depending on your flow and requires only a simple cleaning. With proper use and care, a reusable menstrual cup can last upwards to 10 years!
The Venus Menstrual Cup (link to read reviews on Amazon) comes in two sizes (small and large) based on your needs during your menstrual flow. Venus is a brand that pays close attention to detail and has designed its reusable menstrual cup with the customer's comfort and needs as their first priority. Made from 100% medical-grade silicone which is soft and pliable, it can easily be folded for insertion with just the right amount of firmness on the rim to help it open when the fold is released. The base of the cup is designed with a coned stem and patterned grip rings for secure and comfortable removal.
If you're a first-time user, don't worry. Venus has you covered with a detailed instruction manual for proper use, cleaning, and care. Packaged and manufactured in the USA, the Venus Cup is FDA registered and free from any potentially harmful chemicals such as BPA, latex, or phthalates. Most importantly, it's a game-changing switch, that will reduce your plastic waste, keep you comfortable, and save you plenty of money in the long run.
2. Period Underwear
Period underwear is a great eco-friendly alternative if you already use panty liners for spotting or discharge. They are super-absorbent and usually come in two different types, first just a standalone leak-proof layer and second, absorbent padding with an additional a leak-proof layer. They don't require a ton of extra-care, a simple cold-wash and air-dry will do the trick. If you use them regularly, they make a much better option than panty liners.
Anagin EvaWear Menstrual Panties (link to read reviews on Amazon) is premium period underwear that offers various styles, sizes, and absorbency levels so you can say goodbye to your old dark-colored panties that you typically reserve for your heavy flow days.
3. Reusable Cloth Pads
If you use disposable pads, consider the waste that you are putting out into the environment as many contain plastic which is not biodegradable and will sit in a landfill for years. Some also may contain toxic chemicals that were used during the pesticides for the cotton and bleaching process.
Reusable cloth pads are similar to disposable sanitary pads as you will simply put them in your underwear to absorb your flow. When they are ready for changing, rather than tossing them out, you can simply rinse them in cold water and add them to your laundry. No more emergency trips to the store, smelly trash, or spending additional money on disposable pads.
Lunapads (link to read reviews on Amazon) offer washable cloth pads that are made from organic cotton and contain no added chemicals, fragrances, or adhesives. They can machine wash and dry safely allowing you to use them for up to five years.
4. Tampons Without an Applicator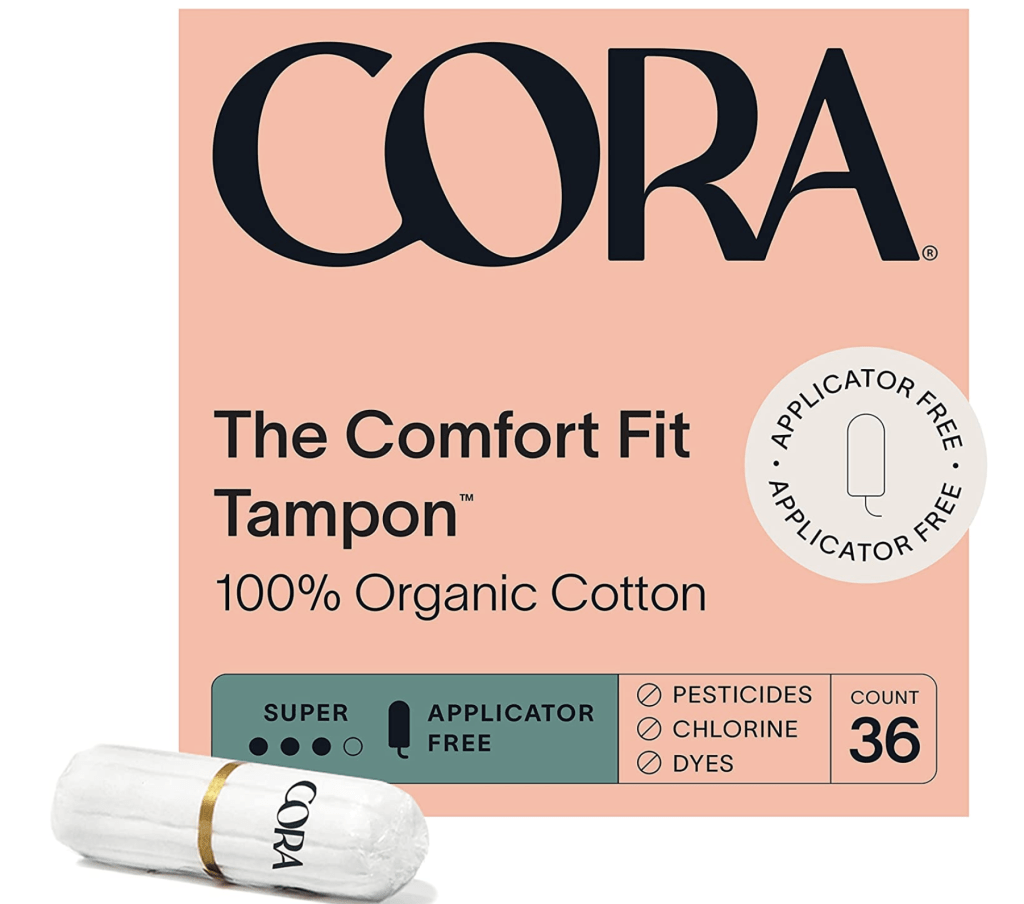 Not ready to make the switch to a reusable menstrual cup but still want to reduce your plastic waste? By using tampons without an applicator you can easily compromise to help the environment. This way every time you use a tampon you are using less plastic waste than using a standard tampon brand.
Cora Organic Cotton Non-Applicator Tampons (link to read reviews on Amazon) don't require a plastic applicator. They are made from biodegradable organic cotton so they are bleach, pesticide, and fragrance-free. You can ditch your big-brand tampon that is made with often undisclosed synthetic ingredients and without the environment in mind.  A product and brand you can feel good about as Cora pledges to provide pads to young women in need in developing countries for each purchase.
5. Reusable Applicator
Do you still prefer using a tampon with an applicator but want to be plastic-free? The people at DAME have created the world's first reusable tampon applicator. Now you no longer have to choose between your comfort and protecting the environment.
Named "D.", this reusable applicator is made from medical grade materials that are environmentally friendly and plastic-free. It actually contains antibacterial polymers that act as natural sanitizers, keeping your applicator hygienic after each use. Cleaning is a breeze with a simple rinse of water and drying with a towel. "D." also includes a bathroom storage tin and a handy carrying zip pouch for travel. By using a reusable applicator you are preventing any excess plastic waste from entering our waterways, which is a small investment that will go a long way.
6. Menstrual Discs
Menstrual discs are similar to reusable menstrual cups. They are inserted into the vagina and meant to collect your flow without absorbing it, however, they are not reusable. Menstrual discs are a great entry-level test for someone who is unsure about switching to a reusable menstrual cup which can have added maintenance and hygiene required.
Softdiscs Menstrual Discs by The Flex Company (link to read reviews on Amazon) can last up to 12 hours between changes, which when compared to a standard tampon will help you reduce waste. They are ideal for heavy or light periods and are comfortable enough for activities including exercise, swimming, sleeping, and even intimate time in the bedroom.
7. The Ziggy Cup
The Ziggy Cup by Intimina (link to read reviews on Amazon) is the first reusable menstrual cup that can be worn during lovemaking. The Ziggy Cup features a flat-fit and flexible design that fits below your cervix and will provide 12 hours of comfort and protection.
It's made from 100% medical-grade ultra-soft silicone and contains no added chemicals or fragrances that will cause irritation. Intiminia designed The Ziggy Cup to be the most "minimalist" option on the market which makes a great choice for those first-time users of a reusable menstrual cup. A fantastic way to reduce your waste while not breaking the bank.
8. Sea Sponge Reusable Tampons
Many eco-friendly conscious women have made the switch to using sea sponge tampons, claiming them to be the most comfortable tampon they have ever worn. You might be scratching your head at the idea of taking something from the sea and using it like a tampon, however, sea-sponges are a renewable resource that has been used by women for personal care for thousands of years.
Jade and Pearl Ultra Soft Reusable Sea Sponges (link to read reviews on Amazon) are 100% natural, contain no added chemicals, and come in four different sizes. Sustainably harvested from the Mediterranean Sea, they are extremely absorbent, soft, and durable and can be washed and reused for up to 3-6 months. If you are curious, give them a shot! Many women have chosen to never to go back to using standard tampons again.
9. Organic Pads and Tampons
If standard tampons or pads are still the best fit for you and your needs, look for organic pads. L. Organic Cotton Tampons and L. Organic Pads (link to read reviews on Amazon) are made from Global Organic Textile Standard (GOTS) certified organic cotton and contain no chemical bleaching, rayon, fragrances, or dyes. The plastic applicator is BPA-free and they come at an economical price.
L. is a company committed to increasing access to personal care products for people all over the world. For every tampon, pad, or liner purchased, L. provides access to a pad for a woman who is in need. A great natural product from a brand you can actually feel good about.
Final Thoughts
It's estimated that the average woman goes through 11,000 sanitary items or 250-300 pounds (113 kg-136 kg) in her lifetime, which is way too much waste tossed into the environment! Most big brand companies produce their period products with 90% plastic and many contain chemicals, making them unrecyclable. Ultimately, these items end up sitting in a landfill for eternity.
Fortunately, as consumers, women have the choice to be eco-friendly so many brands are starting to create fantastic environmentally conscious alternatives to traditional disposable tampons and pads.
If you are curious about trying out a new type of period product do not hesitate, as surely there is an eco-friendly option that will be right for you and your personal care needs. This may mean you are trying out a messier method or something new, but you will be doing your part to help the environment and reducing your waste.
Related Questions
Are tampons eco-friendly? Tampons and pads have traditionally been disposable and produced with plastic. Menstrual cups are more environmentally friendly due to their reusability and eco-friendly materials, giving them a much longer lifespan.
How long does it take for a tampon to decompose? It can about 6 months for a tampon to fully biodegrade. When tossed out, the plastic component of sanitary pads can take 500-800 years to decompose!