When I think about all of the products in my bathroom, I want them to be eco-friendly. After doing some research I was able to create a big list of my favorites.
Eco-friendly is anything that is not harmful to the environment. When looking to go eco-friendly, I always look for high-quality products that are made from organic and all-natural ingredients and are produced with sustainability in mind. They should also have limited excess packaging that is recyclable, compostable, or biodegradable. Anything that will help my family limit our overall waste in the bathroom will be considered a benefit too!
So what are some must-have products for an eco-friendly bathroom?
Best Products for an Eco-Friendly Bathroom
Let's take a closer look at the must-have products for an eco-friendly bathroom.
1. Leafico Bamboo Toothbrush
In the US alone, an estimated 1 billion plastic toothbrushes get tossed out each year. One of the easiest ways you can reduce your plastic waste is by switching to a bamboo toothbrush. Many consumers are now making the simple switch and ditching the conventional plastic toothbrush for a more sustainable and plastic-free alternative.
The Leafico Bamboo Toothbrush (link to read reviews on Amazon) is made from 100% biodegradable bamboo and features medium-soft charcoal-infused bristles with an ergonomically designed handle for a natural grip. The included compact bamboo travel case, complete with water-resistant coating and ventilation, keeps the bamboo toothbrush dry, while maintaining its lifespan. The ADA (American Dental Association) recommends changing your toothbrush every 3 months or when your bristles show signs of wear. When this happens, simply remove the bristles and you can toss your toothbrush in the compost bin, where it will decompose naturally. No more contributing to plastic waste that sits in a landfill for yours upon end. Sold in a pack of 4, each toothbrush is individually numbered, making it an excellent eco-friendly choice for each member of the family.
2. Uncle Harry's Flouride-Free Toothpaste
I love that this all-natural toothpaste comes with eco-friendly packaging in a recyclable glass jar. Uncle Harry's Flouride-Free Toothpaste (link to read reviews on Amazon) is a thicker paste, so I only find myself going through no more than four small jars in a year! I have experienced my share of less than tasty toothpaste alternatives, but I must say that the essential oils, mineral clay, sea salt, and pure plant essences are actually very refreshing in the mouth. They also come in a variety of flavors, with cinnamon being my favorite.
3. Oxyfresh Pro Formula Mouthwash
If you are like me and have sensitive teeth you'll appreciate that this all-natural mouthwash is alcohol-free and contains no artificial flavors or coloring. Oxyfresh Pro Formula Mouthwash (link to read reviews on Amazon) is also naturally sweetened with xylitol, a sugar that occurs naturally in many fruits and vegetables. I prefer to dilute my mouthwash so a large bottle is substantial enough to last several months for the whole family.
4. Dental Lace Silk Dental Floss
This dental floss is made from silk which is non-petroleum based and plastic-free. Dental Lace Silk Dental Floss (link to read reviews on Amazon) has packaging that is eco-friendly and comes in a tiny recyclable glass vile while the floss itself is compostable. I prefer this over traditional dental floss which is sadly waxed nylon rolled up in a plastic box. Nylon is also extremely tear-proof, so when it ends up in the environment it can be harmful to marine life. This is a wonderful and guilt-free way to take care of your gums!
5. Edwin Jagger Double Edge Safety Razor
A safety razor is an eco-friendly alternative to a disposable plastic razor that will last a lifetime. The blades will require replacing ever 5-10 shaves but the cost is very minimal, at only $10 for 100 pieces. I recommend using a cream instead of a gel as it will help you get a better glide when shaving. The Edwin Jagger Double Edge Safety Razor (link to read reviews on Amazon) is a very click and attractive looking razor and will be much more eco-friendly than tossing our disposable plastic razors.
6. Stick Up Organic Natural Deodorant
This organic deodorant is chemical-free, meaning no fragrances, no toxins, no aluminium, and is free of BPA. Stick Up Organic Natural Deodorant (link to read reviews on Amazon) is produced cruelty-free and the plastic-free packaging is very unique for a deodorant, coming in a biodegradable cardboard container.
The last thing you want from your deodorant is an added irritation under your arms. Many different types of all-natural deodorants may suit one person and irritate the next. Be sure to be patient and find the right one that works for you.
7. Boss Bidet Toilet Attachment
Transform your toilet like you are in Europe! A bidet is designed for ultimate personal hygiene and will help save a TON of toilet paper and money. Before I got this bidet attachment, I was shocked as to how much toilet paper my family was using.
The Boss Bidet Toilet Attachment (link to read reviews on Amazon) features dual nozzles for both front and rear cleaning. By simply turning the knob, water spays at the right spot to give you a fresh right-out-of-the-shower clean feeling. This was easy to install in less than 15 minutes and will fit most standard two-piece toilets. Another option is a handle attachment, but these can be clumsy and look awkward. I promise, once you try this you won't want to go back to your oil toilet paper wasting ways!
8. Seventh Generation Unbleached Recycled Toilet Paper
Did you know that the average American uses nearly 21,000 sheets of toilet paper a year? This is nearly equivalent to the length of 23 football fields, which is a crazy amount of toilet paper! This toilet paper is made from recycled paper with no added dyes, fragrances, or bleaching. Seven Generation Unbleached Recycled Toilet Paper (link to read reviews on Amazon) also features packaging that is 100% recyclable. While we are not huge fans of using excessive amounts of toilet paper in our bathroom (see Bidet attachment above), there still is a need for toilet paper so we opt for this eco-friendly choice.
9. Ethique Eco-Friendly Solid Shampoo and Conditioner Bars
I love products from Ethique due to their natural ingredients, cruelty-free production, and compostable packaging. Encouraging you to "ditch the bottle", this shampoo bar is equivalent to 3 bottles of shampoo (350ml bottles). Ethique Eco-Friendly Shampoo and Conditioner Bars (link to read reviews on Amazon) come in several varieties for normal, oily, frizzy, and even my dry hair! Their primary ingredients include coconut oil and cocoa butter, and other essential oils.
10. Dr Bronner's Pure Castille Bar Soap
I always appreciate solid bar soap as it usually lasts much longer than liquids and eliminates the need for plastic bottles and excess packaging. I love that this is a multi-use soap that can be used on the hands, face, or as a body scrub. Dr. Bronner's Pure Castille Bar Soap (link to read reviews on Amazon) comes in a variety of different scents that are not too overpowering and are suitable for sensitive skin types. Certified organic and vegan this soap is also cruelty-free making it one of the best eco-friendly soaps on the market.
11. Kohler Awaken B90 Handshower with Eco-Boost
Looking to conserve water in your bathroom? Unfortunately, there's a trade-off to be made between high pressure and a water-conserving shower. With the Kohler Awaken B90 Handshower with Eco-Boost (link to read reviews on Amazon), you can control your water flow by simply switching between the device's 1.5 (5.7 L) and 2 gallons (7.6 L) per minute settings. Installation was a breeze in our guest bathroom. Make sure you don't forget the added hose attachment.
12. Chakir Turkish Linens Bath Towels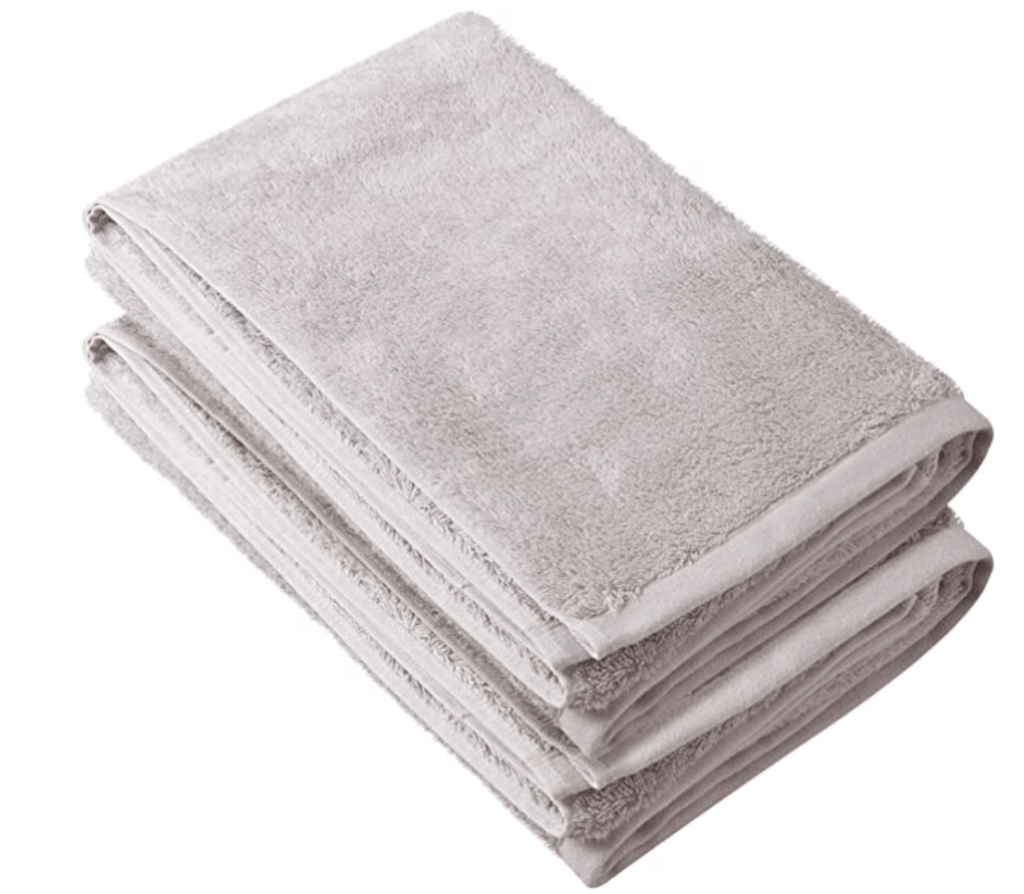 Made from 35% bamboo fibre, Chakir Turkish Linens Bath Towels (link to read reviews on Amazon) will be more eco-friendly than traditional 100% cotton ones. They are also chemical-free and contain only natural dyes. With a cheap price tag, they won't break the bank, and remind me of the extra-soft towels you will get in the nice hotels!
13. Mayberry Extra Long Exfoliating Bath Cloth
Get rid of your old loofah as they will only harbor bacteria when not washed and dried properly. Whenever I did try to wash my loofah in the machine, it ended up in broken pieces so I found myself replacing it more often than I would like. The Mayberry Extra Long Exfoliating Bath Cloth (link to read reviews on Amazon) is reusable and machine washing safe and will last from 4-6 months. It's also extra long for those hard to reach spots and will dry easily after use.
14. Organic Hemp Shower Curtain
The Rawganique Organic Hemp Shower Curtain is PVC and plastic-free. Since it's made from organic hemp it's resistant to mildew and bacteria because it dries quickly. I like the fact that it also doesn't require any inner plastic liner. There are a variety of colours so it will fit any bathroom motif you are looking for.
15. The Happy Cup Reusable Menstrual Cup
Having to buy tampons or pads every month can get annoying, not to mention all of the plastic-waste you're adding to the environment that will sit in a landfill for years upon end. Fortunately, there is a simple solution that many women are starting to use. Enter the reusable menstrual cup.
The Happy Cup Reusable Menstrual Cup by Hawwwy (link to read reviews on Amazon) is a 100% medical-grade silicone cut that's designed to collect your menstrual flow, rather than just absorbing it. Inserted similar to a tampon, it's odorless and leak-proof and can last for up to 12 hours depending on your flow. It features an easy-to-pull stem with ridges designed specifically for a secure grip while removing. Available in two sizes (small and large) based on your needs and comfort, it also includes a storage bad and instruction manual for first-time users. If you are new to using a reusable menstrual cup, it may take some getting used to at first but in the long run, you'll be reducing your plastic waste and saving yourself money each month.
16. Bandana Handkerchiefs
Facial tissues can be very wasteful when used in excess. I love using a simple bandana as a handkerchief. No need to worry about any potential embarrassing pieces left behind after you blow your nose. You can simply add them to your regular laundry once they become gross. These Bandana Handkerchiefs (link to read reviews on Amazon) are made from 100% cotton, they are super thin and lightweight, perfect for on the go. I also love that they come in different colorways and designs too!
17. UNNI Compostable Trash Bags
I use these smaller UNNI Compostable Trash Bags (link to read reviews on Amazon) in the bathroom as they are compostable, biodegradable and approved for most waste collection programs. They also serve well for recyclable materials and your compostables, but I recommend buying a bigger size for heavier loads in the kitchen. I like how they have even gone the extra eco-friendly length by making the box compostable too!
18. BambooFy Organic Bamboo Washcloths
Made from bamboo fibers, BambooFy Organic Bamboo Washcloths (link to read reviews on Amazon) are incredibly thick and durable. They are actually designed for babies, but I love them because they are super soft. Due to the natural properties of bamboo as a material, they are hypoallergenic and anti-microbial making them perfect for sensitive skin. This is a great eco-friendly option compared to more conventional and dyed cotton options.
19. Fieldworks Supply Hot Springs Body Wash
If you wish to go for a liquid body wash, Fieldworks Supply Hot Spring Body Wash (link to read reviews on Amazon) is one that is free of chemicals like fragrances and dyes. It still maintains its antibacterial properties consisting of all-natural plant-based oils and clay. This wash won't leave you heavily performed with an overwhelming scent and will be kind on your skin but also to the environment.
20. Topoint Washable Cotton Pads
Use the last of your wasteful single-use cotton pads and switch over to washable and reusable cotton pads. Topoint Washable Cotton Pads (link to read reviews on Amazon) are made from organic cotton and can be washed with your normal laundry. They work perfectly for any makeup removal and skincare routine and they are actually softer and larger than your standard single-use cotton pads. I love that they come with a handy laundry bag so they won't get lost in the washing machine!
21. Bamboogle Bamboo Bath Mat
This is a lovely accent to the bathroom and serves as the perfect non-slip mat for a safe entry and exit from the shower or bath. The Bamboogle Bamboo Bath Mat is made fro 100% bamboo, has antibacterial properties, and will dry quickly due to tis slated design. I haven't needed to replace this yet and prefer it over a cheaper bathmat that will get soggy and wear out over time.
22. Seventh Generation Recycled Facial Tissues
I have always been a fan of handkerchiefs (see above), especially on the go. But when I have guests over, it's convenient to have facial tissues on hand in the bathroom. Just as with toilet paper, Seventh Generation Recycled Facial Tissues (link to read reviews on Amazon) are produced from recycled paper, which is hypo-allergenic, dye and fragrance-free. A fantastic eco-friendly choice if you don't prefer to use handkerchiefs.
23. Puracy Organic Home Care Cleaners
Many traditional cleaning agents can contain volatile organic compounds or VOCs which can be harmful to your health and the environment. The Puracy Natural Home Cleaning Set (link to read reviews on Amazon) contains all-natural plant-based ingredients without harsh chemicals. I love using their multi-purpose cleaners in the bathroom, which works great on stainless steel and any mildew buildup in the shower.
24. Aira Soy Candles
A fun eco-friendly option to spice up the aroma in the bathroom. Aira Soy Candles (link to read reviews on Amazon) are made from pure organic soy and vegetables as opposed to standard commercial candles that may use paraffin, petroleum oils, or other toxic bases. What you burn is what you breathe, so it's safe knowing that they won't release anything toxic into the air. The wicks are also cotton and lead-free. When you finish using the candle, you can epicycle the glass jar and use to for the storage of your bathroom accessories.
25. Live By Being Bath Salts
When it's time to unwind at the end of a long week, I love a good bath. Live By Being Bath Salts (link to read reviews on Amazon) come from detoxifying Dead Sea mineral salts and are a natural option for treating inflammation, joint pain, and arthritis. A band that prides itself on producing 100% all-natural vegan, and cruelty-free products, these bath salts are infused with many other herbs and essential oils that smell lovely and will really add to your bathtime experience.
Final Thoughts
This is a list of eco-friendly products for the bathroom only, however, there are many other products throughout the home that can be eco-friendly too. I encourage you to do your research and be conscious to find out exactly how some products are produced and what exactly is in them, all with respect towards promoting a sustainable environment. An environmentally-conscious mind can go a long way and an also serve as a great opportunity to educate others.
Related Questions
What is the most eco-friendly fabric? Bamboo is an eco-friendly fabric due to its antibacterial properties and is also a renewable resource as a plant. Depending on the production process it can be more environmentally friendly than other fabrics such as cotton, polyester, and acrylic.
Is fluoride bad for your teeth? Fluoride is safe in appropriate doses, but like anything else, it is possible to get too much of a good thing. The main risk is dental fluorosis, a cosmetic condition you can develop it you're exposes to excessive fluoride. Look to see if fluoride is present in your drinking water or toothpaste.
Which bathroom chemicals are the most dangerous? Hypochlorite bleach, when exposed to other chemicals, can be fatal by forming chlorine fumes. Many toilet bowl cleaners may contain hydrochloric acid or hypochlorite bleach. Limit your exposure by using eco-friendly cleaning products.