Eco-friendly baby clothing is on the rise. This is excellent news for eco-conscious parents and the planet. Now is a great time to switch to eco-friendly materials that are kinder to your baby and the world.
But, what are the best eco-friendly baby clothing brands out there? Touched By Nature, Owlivia, Burt's Bees Baby, Kyte Baby, Pact, and Posh Peanut are leading the way in eco-friendly and high-quality baby clothing.
If you're an eco-conscious parent, this guide to eco-friendly baby clothing brands will be useful for making your next purchase. We searched the internet for all the best brands, so you don't have to!
The Best Eco-Friendly Baby Clothing Brands
Touched by Nature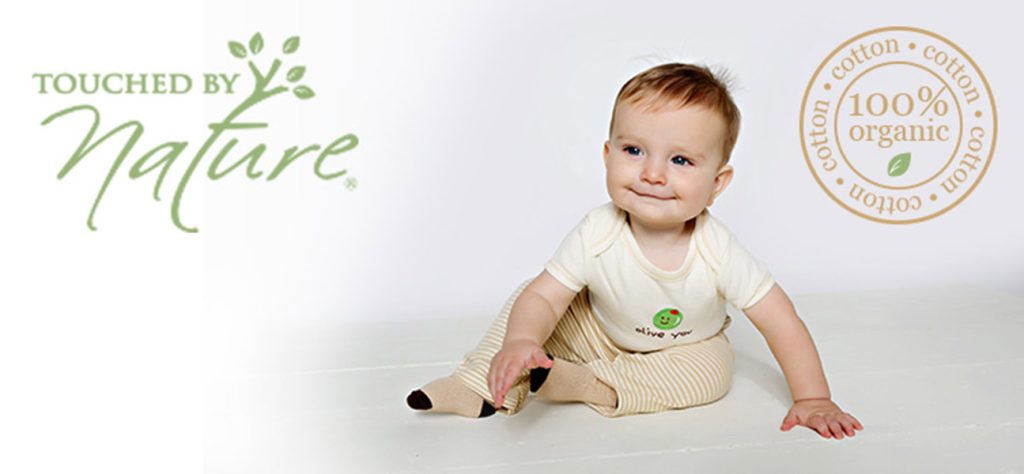 Touched by Nature (link to Amazon storefront) brand is passionate about providing high-quality baby clothes using sustainable organic cotton. Unlike conventional cotton, organic cotton uses less water, harsh chemicals, and energy to cultivate and produce the final product.
The organic cotton used by Touched By Nature is ultra-soft, breathable, and perfect for your baby's sensitive skin. Touched By Nature's garments are not made using any harsh chemicals such as synthetic pesticides, fertilizers, solvents, or dyes.
Organic cotton tends to be more durable than conventional cotton, which is perfect for baby clothes that require lots of washing.
2. Owlivia
All the cotton used by Owlivia is GOTS-Certified organic. The brand offers a wide range of baby clothes, all made from high-quality and ultra-soft organic cotton.
Owlivia (link to Amazon storefront) is best known for its cute pajamas that are breathable and comfy for your baby's sensitive and delicate skin. Helping your young ones get a peaceful night's sleep.
Owlivia also offers a no-questions-asked returns policy because they're so confident with the quality of their products. This is always a great sign of a reputable company.
3. Burt's Bees Baby
Best known for their excellent lip balms and hand creams, Burt's Bee's (link to Amazon storefront) also offers a wide range of high-quality baby clothing. They use only 100% GOTS-Certified organic cotton, no synthetic pesticides, and the cotton is combed and ring-spun.
The result? High-quality and very popular baby clothes that support your baby's sensitive skin that helps make your little one as comfortable as possible. The organic cotton is ultra-soft and gentle to delicate skin.
4. Kyte Baby
Kyte Baby (link to Amazon storefront) was formed to help your little ones get the best quality sleep possible. They offer a wide range of sleep bags, bundlers, pajamas, and swaddles.
All of their clothing is made from high-quality bamboo fibers. Bamboo is a sustainable crop that is a large absorber of C02, is 100% biodegradable, requires no chemicals for cultivation, and uses much less water than cotton to grow and produce.
Bamboo fibers are also incredibly soft, breathable, warm, and are naturally antimicrobial and hypoallergenic. Making bamboo an excellent material for your baby's smooth and sensitive skin.
5. Pact
Pact (link to Amazon storefront) is a fantastic brand that holds firm commitments to sustainable business practices. All of their clothes are GOTS-Certified Organic, Fair Trade USA Factory Certified, and Sustainable & Ethical Style Guaranteed.
Pact offers a wide range of stylish baby clothes, including bundled savings packs that provide you essential garments at more affordable prices.
The company is on a mission to make organic and Fair Trade clothing available to everyone at affordable prices with little to no negative impact on the environment, the people that make the clothes, or the people that buy them. Everyone involved gets a fair deal.
6. Posh Peanut
Posh Peanut (link to Amazon storefront) is another brand that has decided to utilize eco-friendly bamboo for their clothing. They also conduct some serious testing with moms so that all their products are "mommy tested and baby approved."
Posh Peanut offers a wide range of luxury baby clothes. Their products are made with both comfort and style in mind. If you're looking for baby clothes that make a statement, Posh Peanut is the brand for you and your baby.
The brand also offers a money-back guarantee if you're not satisfied with their products. Given the popularity of this brand and the significant number of positive reviews, it's unlikely you will need to take them up on this offer.
Why Choose Eco-Friendly and Organic Baby Clothing?
To understand why buying eco-friendly and organic baby clothing is a good idea, we must first understand the issues behind conventional materials like cotton.
Conventional Cotton Vs. Organic Cotton
Cotton uses a vast amount of land, water, and energy to be produced. The cotton industry is also responsible for poor working conditions in countries such as China. Buying organic cotton or bamboo ensures you're buying a more eco-friendly product that is also fair to the farmers and people who created the garments.
Organic cotton, which is the material of choice for many eco-friendly baby clothing brands, is far less damaging to the environment. Organic cotton farms do not use synthetic fertilizers, pesticides, or other harmful chemicals and use significantly less water.
The organic cotton used is harvested in a gentle manner that is considerate of the local environment and ecosystem. Once harvested, it is treated with an eco-friendly process without the use of chlorine bleaching.
Consider Your Baby's Skin
We all know that a baby's skin is very soft, sensitive, and delicate. In fact, your baby's skin is five times more susceptible to absorption than your adult skin. The last thing you want to expose your baby's skin to is harsh chemicals.
Conventional cotton is grown with toxic chemicals and is treated with more toxic solvents and dyes during production. Organic cotton reduces your baby's exposure to harsh or toxic chemicals. It is also much softer, breathable, and absorbent than conventional cotton.
Why Choose Bamboo?
Some eco-friendly brands choose to make their garments with bamboo and not organic cotton. This is because bamboo is equally as, if not more, eco-friendly material than organic cotton.
Bamboo is a fast-growing super crop that is an excellent absorber of C02 with natural moisture-wicking, antimicrobial, and hypoallergenic properties. Making bamboo fibers the perfect material for baby clothing.
Bamboo is 100% natural material, which means it is biodegradable and recyclable. Bamboo fibers are also much more durable than cotton. If cared for properly, bamboo garments will last for years before they need replacing.
Garments made from bamboo require being washed in cold water on a low cycle. As a result, choosing bamboo clothes can help you minimize the cost of your monthly energy bills and your impact on the planet.
Always make sure you look for organic bamboo from a sustainable source for the best quality. Unlike cotton, organic bamboo is much more challenging to come by.
Final Thoughts
As a planet, we must move towards more eco-friendly and ethical consumerism. Both organic cotton and bamboo baby clothing can significantly help mitigate your impact on the environment.
The eco-friendly brands listed in this article may be slightly more expensive than regular baby clothing brands, but their garments are more durable, safer for your baby's skin, and are less damaging to the world. That's three great reasons to spend a little extra.