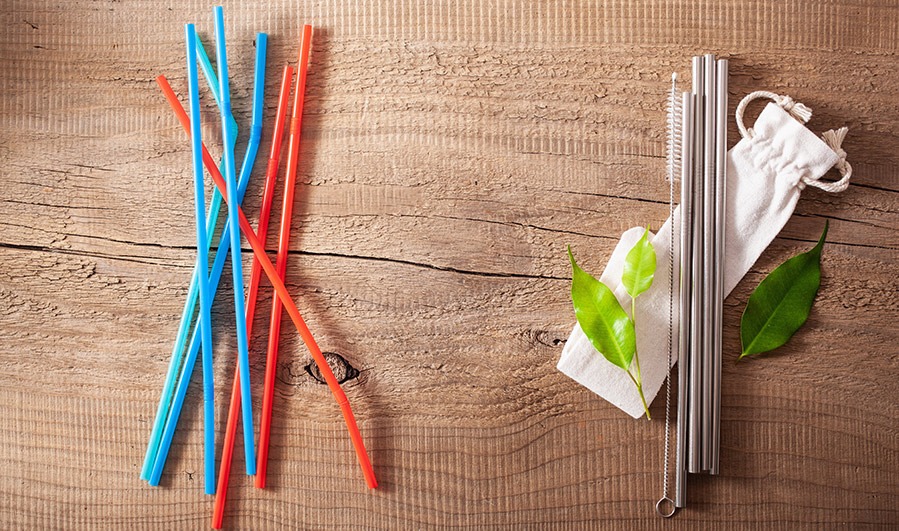 Metal straws are becoming increasingly popular with eco-conscious consumers looking for a solution to avoid using disposable plastic straws. This trend is a reflection of the growing awareness around the impact of plastic waste on our environment.
So, are metal straws better for the environment? Metal straws are typically made from highly durable stainless steel that can last for up to five years and once finished with they can be recycled again and again. Metal straws are better for the environment compared to other eco-materials when we consider their full life-cycle.
If we consider that an estimated 63 billion single-use straws are used every year in the USA alone, metal is a great alternative eco-material for straws. Here is everything you need to know about metal straws before you decide to purchase one.
Why Metal Straws Are Better for the Environment
Let's consider all the aspects of a metal straw's full lifecycle to determine whether they're a sustainable solution to regular single-use straws such as plastic, paper, bamboo, or glass.
Carbon Footprint and Waste
If we look at the analysis below, we can see that a regular disposable plastic straw emits 1.4g of C02 per straw, compared to 217g of C02 per metal straw. This means you would need to use a metal straw 149 times to abate the emissions of a plastic straw. If you consider the durability of a metal straw, which can last up to five years, this wouldn't be difficult to achieve.

While this is great news for personal owners of metal straws, it's even better news for those with businesses in the hospitality industry. It wouldn't take long at all to abate the emissions of a plastic straw if you're serving hundreds of people each day of the week inside a bar or restaurant. This is a quick way to reduce your company's carbon footprint, become more sustainable, and improve your company image.
It is clear that metal straws carry a much lower carbon footprint than alternatives such as plastic, paper, bamboo, and glass when we consider their full lifecycle. It can be easy to be tempted by the natural appeal of paper or bamboo, believing it must be better for the environment but they're not. Choose metal straws made from stainless steel or even better, recycled metal straws that will carry and even lower carbon footprint.
Production
The production of steel is not kind in the environment affecting air emissions, contaminating water, and creating hazardous waste as a byproduct.
However, steel is highly durable so it only needs to go through this environmentally unfriendly process once and then it provides its owner with thousands of uses and years of enjoyment.
Even compared to bamboo, this makes steel much more eco-friendly. A bamboo straw usually only lasts six months until it needs replacing with a new one.
Metal straws also benefit from an extremely high recyclable rate of 86%. This means that when you have finished with your steel straw it can be made into other steel objects and continue to be recycled and used for many years to come.
This is vastly different from the production of alternative straw materials such as plastic, bamboo, and paper. These straws all depend on continuous production to meet the demands of their customers. Production processes that typically involve the use of C02, pesticides, fertilizers, and other chemicals that have a huge impact on the environment.
Packaging and Shipping 
Steel straws incur more waste and C02 emissions when being shipped simply due to their heavier weight. However, it's important to once again consider the superior reusability of steel compared to other eco-materials. While the initial packaging and shipping of metal straws is more damaging than say plastic or bamboo, metal straws don't need to be delivered as much.
If you buy one metal straw and it lasts five years you will incur the C02 emissions of its packaging and shipping just once. If you choose bamboo, you will need ten separate deliveries during the same five years to help replace worn-out bamboo straws. This is a lot more deliveries than if you were to choose plastic or paper straws.
This means you will be incurring the same packaging and shipping emissions over and over again adding up way beyond the one delivery of a metal straw.
What are the Other Benefits of Using a Metal Straw?
When you buy a metal straw you don't just benefit from their superior sustainability, they also have other great benefits when compared to alternative straws like paper, bamboo, and glass.
The Material
Stainless steel is ultra-strong and durable. It would take a significant number of uses to wear it out and huge amounts of force to break. A metal straw will typically last up to five years if taken care of properly.
A bamboo straw will last around six months, paper straws are disposable, glass straws can last just as long as steel straws but are far more delicate and easier to break.
Effect on Drinking
Often, you will find that some eco-straws can slightly change the taste or temperature of your beverage. Steel straws will not change the taste of your beverage but you should be careful when drinking hot liquids as the metal can get very hot. Be careful not to burn your lips!
Metal straws may make your cold drinks feel even colder. This may be a bonus feature for many people or an annoyance to anyone with sensitive teeth.
Maintenance & Cleaning
Metal straws are the simplest straws to keep clean and maintain. All you need to do is use warm water and the tiny brush that should come with your metal straw when bought in store. Use the tiny brush to scrub the inside of the straw to remove any dirt.
Once you have scrubbed the inside of your metal straw you can either continue to wash it in the sink with warm soapy water or just throw it in your dishwasher. Make sure you always give the inside a good scrub before washing. You don't want dirt to start decaying inside your lovely metal straw.
Safety
Metal straws are perfectly safe as long as you purchase stainless steel and you're not allergic to nickel. Metal straws contain nickel which is a common allergy across the globe. Steel is typically made from 18/8 material which means your metal straw will be food grade safe.
There is only one small danger when using a metal straw and that is when you're drinking hot liquids. Steel conducts heat very quickly and if you leave your metal straw to sit in a hot drink for too long you may burn your lips if you're not paying attention.
Style
Metal straws, because of their steel material, can be crafted into all sorts of shapes and come in lots of different colors and designs. The most popular shape is a slight right angle which makes sipping much easier. Popular colors include rose gold and red.
Bamboo straws are great if you want a more natural look but you will not be able to benefit from different shapes or colors.
Final Thoughts
When we consider the full life cycle of a metal straw it is clear that they're far better for the environment. While their initial production may be demanding of natural resources and the cause of higher C02 emissions, their reusability abates this after a few years of use (even less if used in a hospitality setting).
Not only are metal straws better for the environment they offer other great benefits too including superior durability, no aftertaste, easy cleaning, a safe material, and come in many styles and designs for you to choose from.